See the coverage and services included in our Expatriate Funeral Insurance
Funeral Services or Repatriation
Repatriation of the deceased to the country of origin; Or Burial and cremation, chosen at the discretion of the insured party's family:

Coffin
Hearse
Accompanying car
Shroud
Fresh wreath
Obituary
Documentation, certificates, proceedings, administrative formalities
Religious services
Home service or funeral parlour
Cemetery service
Burial (interment) or cremation
Temporary burial site
Marble or granite headstone for burial site
Personalised assistance
Over-The-Phone Legal Guidance
Civil law


Automobile

: accidents (reports and claims), misdemeanours and offences, blood alcohol level issues, fines and appeals, permits, authorisations, cancellations, and motor vehicle inspection (ITV).



Home

: house sales and purchases, mortgages, property records, evictions, imperfections and defects in construction, commonhold property, resident associations, and neighbour problems.



Assets

: Property, possession, usufruct, inheritances, successions and donations, rental, easement, and intellectual property.



Individuals

: Separations, divorces and annulments, adoption, tutorship, legal custody and legal incapacity, marriage, paternity, kinship, nationality, residence, pensions, and inheritances.



Contracts

: marital property system,, buying and selling, rentals, loans, deposits, banking contracts, leasing.
Labour law
Work contracts (pay, extensions, and terminations), redundancies, sanctions, regulatory reports, work accidents, work incapacity and disability, and social security.
Administrative law
Tax-related: infractions, sanctions, inspections and appeals, taxes (VAT, income tax, corporate, transmission, succession) and capital gains.



Environment

: inspections and sanctions, contracts, transports and plants.



Administrative

: Assistance in fines, dealings with public administrations, and town planning.
Criminal law
Misdemeanours, reports, quarrels, lesions, threats, injury, calumny, theft, robbery, fraud, misappropriation, medical and clinical liability.
Trade law
Limited companies (ltd), guilds, assemblies, acts, trade registry, industrial property (patents and brands) trade contracts, bankruptcy and payment suspension; claims in summary, declaratory, and foreclosure proceedings; associations and cooperatives, consumer and user rights, claims, publicity, and deliveries.
Accompanying party in the event of an international transfer
Ticket for a return flight in tourist class or other suitable means of transport to accompany the body during the transfer.
If the accompanying party is required to stay in the place of death for paperwork or similar administrative purposes related to the transfer of the deceased, We will reimburse room and board expenses for an amount up to €90.15 per day with a total limit of €601.01.
Assistance abroad is valid for Spanish residents.
The maximum stay abroad cannot exceed 90 consecutive days.
How it works:
The main feature of Expatriate Funeral Insurance in Spain is that the insurance premium progressively gets higher, allowing you to pay less the younger you are.

The premiums increase until the age of 76. From this moment onwards, the amount only increases annually according to the cost of the funeral service. This is equivalent to an annual inflation-linked increase in line with the Consumer Price Index (CPI).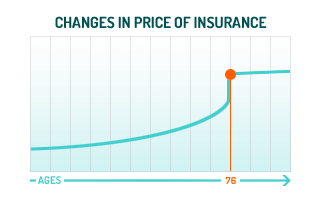 The sum insured is high enough to cover all the expenses that would be incurred in the event of death, and is calculated based on your country of origin.